Innovation is one of the core values at Valentine Fabrique S.A. As innovation becomes more and more important for our industry, we have created in May 2018 "Valentine LAB". Designed as an Innovation Centre, the aim of Valentine LAB is to ensure that we are permanently innovating and looking towards the future. Valentine LAB is mainly focusing on product development and quality, especially in the following domains :
Latest research & trends in food technology
Product development & services for the kitchen equipment sector
Working on digitalizing kitchen experiences
Seeking for excellence in quality, manufacturing more efficient and safe products
If you'd like to know more about what's going on right now in the Valentine LAB, Christophe Paris, CEO of Valentine Fabrique S.A, will tell you more.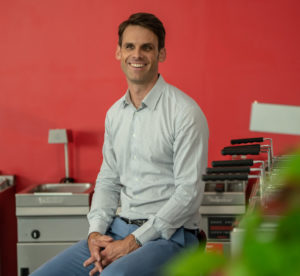 What is Valentine LAB ?
It's a way of making innovation a top priority for us and really focus on what we want now, at a time when development in basically all areas of our field of activity is running faster and faster.
Valentine has always been creative and innovative. These principles flow in our veins and are deeply embedded in our DNA. We have been in business for over 65 years driving innovation in the kitchen equipment sector. However, currently all domains are impacted by the new technologies, digitalization and globalization; we must therefore always question ourselves. Read more about the innovative story of Valentine (link to 65 years).
Why did you launch the "Valentine LAB"?
To speed up the innovation process at Valentine by focusing more on it. Today our technical development is so fast-paced. We need to keep ahead of the competition and meet with our customers' expectations, but also exceed these by creating inspiring, innovative and safe kitchen equipments.
Who is involved in Valentine LAB ?
Right now it is run by 4 people, all employed at Valentine : Julien – Innovation & R&D, Yvan – Production, Quality & After-Sales, Israël – Stainless Steel Workshop and Philippe – Assembly Workshop. We are also involved in joint projects with external stakeholders like universities and other top institutions.
What projects are you currently working on in the Valentine LAB? Can you tell us what's on the horizon?
Well it is really too early to say much about it but we are currently collaborating with the HEIG-VD on how to digitize the future kitchen environment. We want to make our equipments smarter. Well, I think I've said enough for the time being. For the rest, wait and see !
Any last words you would like to share about the Valentine LAB ?
I'm super excited about what will come out of Valentine LAB and we have really high expectations. It can sound really complex at a first sight but it's really about how we can collaborate with our customers and users to stay at the forefront of innovative kitchen equipment.
Also watch the video from Armin Reicharz, our former Technical Director, in which he explains how he feels about working in the Valentine LAB.