This year, it's time to celebrate our 65th birthday. Lots has changed, and lots of changes are on the horizon. So, where have we been and where are we heading? From Comptoir des Machines to Valentine – let's go right back to our roots.
Like every family, we have our fair share of stories. Ours just happens to be slightly business related. Our family tree starts off with Aldo Valentini and Rene Paris. Both men left their mark on the business – Aldo through his name and Rene by passing the baton over his son Bernard.
Shortly after starting the business back in 1953, the duo became a trio when they welcomed Fredy Wenger on board. Actually, if any of you reading this have been following us for a while, you might remember Fredy as he retired 10 years ago after an impressive 55 years with the company! And today you'll find the third generation of the Valentine family, Christophe, and Stephanie, running the company.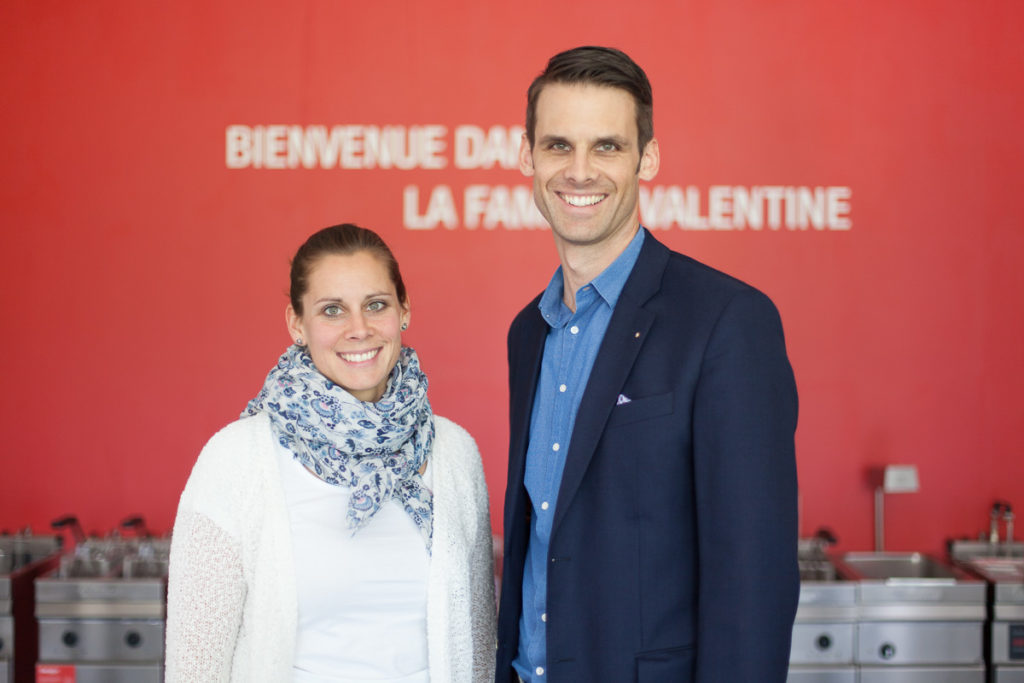 OUR CORE VALUES – HELD TIGHT FROM THE START

Here at Valentine, our values are something we really hold dear. We do our utmost to focus on our customers' and partners' needs. Plus we understand just how valuable our employees are to our success. It may not be the most interesting story, but for us it's super rewarding, and it pays off. Take a look at our birthday – we're not only celebrating our 65th, we're also celebrating a 60 year work anniversary with one of our partners in the UK.

Looking to the future, we're doing all we can to bring Valentine closer to our partners by increasing our communication activities, which we're sure you'll be seeing pretty soon!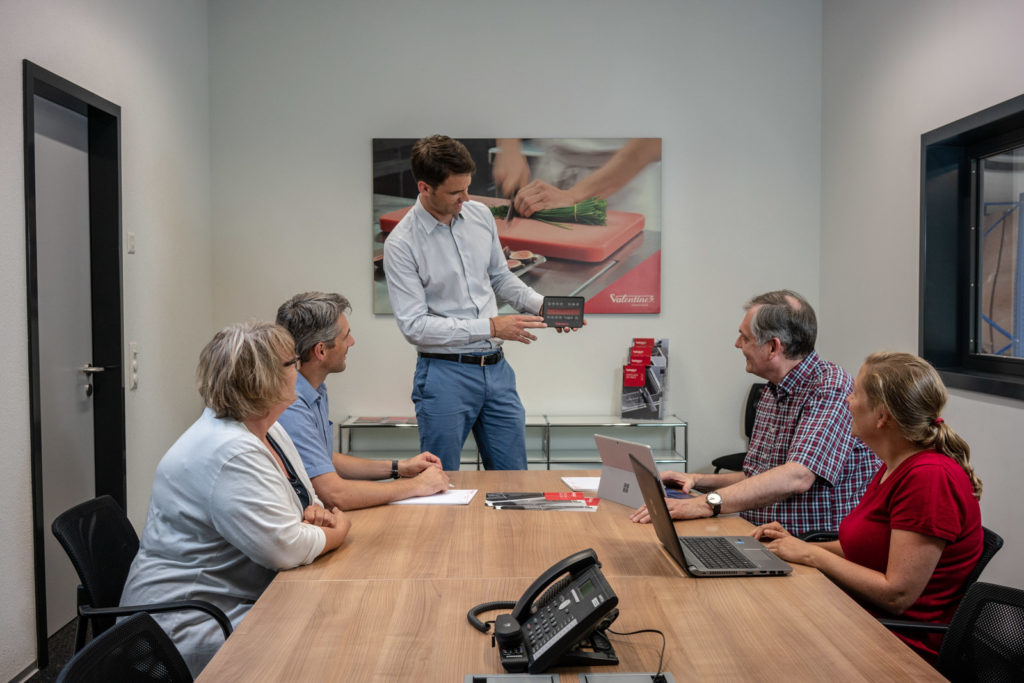 VALENTINE AND INNOVATION

We've always loved doing things first. From being the first fryer producer in work to creating the first connected fryer (Alpina 300). We've even created the Valentine Lab (add "more info coming soon) to focus on all things innovation-related like product development and testing. We're actually planning on launching our first newsletter in 2018, so if you'd like to hear more about the Valentine Lab, let us know and we'll make sure it's included!

FACTORIES AND THE FUTURE

We've stayed close to our roots, only moving just down the road from our original factory. We made the move to ensure that our production capacity can meet the demand for our products. Plus having a bigger place helps keep us motivated to grow, keeping the factory busy for years to come.
Here we make all of our products, ensuring that their top quality by combining a mix of state-of-the-art equipment with rigid Swiss quality checks.

CLIENT FEEDBACK

We love hearing from our clients, so at the end of the year, we asked some of our clients to give us a bit of feedback so that we can keep on growing to meet their needs. We're really pleased to hear that our clients value the reliability of our products, responsiveness, and punctuality. And we're busy working on all the suggestions like improving our marketing, technical support, and innovating more, of course
Finally, we always love hearing from you. If you have any questions, suggestions, or just want to say hello, feel free to call us on +41 21 637 37 40, or you could always email us info@valentine.ch. Or even better, if you're down in our neck of the woods, you could always visit us in Romanel-sur-Morges. We'll invite you for an apero deluxe with our secret recipes of fried chips…
Cette année, le moment est venu de célébrer notre soixante-cinquième anniversaire. Beaucoup de choses ont changé, et beaucoup d'autres changements se profilent encore à l'horizon. D'où venons-nous, et où allons-nous ? Du Comptoir des Machines à Valentine, nous vous proposons de revenir sur nos racines.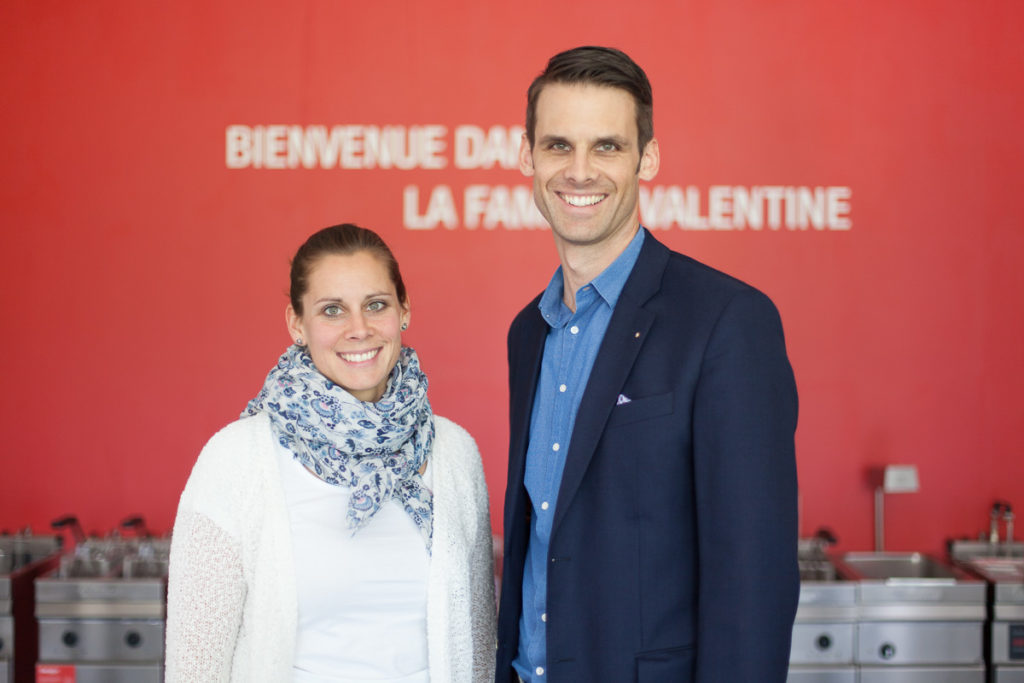 NOS VALEURS FONDATRICES NOUS ACCOMPAGNENT DEPUIS TOUJOURS
Comme toute famille, nous avons eu notre lot de péripéties. Il se trouve juste que les nôtres ont trait aux affaires. À la base de notre arbre généalogique, on trouve Aldo Valentini et René Paris. Ces deux hommes ont laissé leur empreinte sur notre entreprise : Aldo en nous léguant son nom, et René en transmettant le témoin à son fils Bernard.
Peu de temps après avoir fondé la société en 1953, le duo s'est mué en trio quand Fredy Wenger a rejoint l'aventure. D'ailleurs, si parmi vous, certains nous suivent depuis un moment, vous vous souvenez peut-être que Fredy a pris sa retraite il y a 10 ans après pas moins de 55 années de bons et loyaux services au sein de l'entreprise ! Aujourd'hui, avec Christophe et Stéphanie, c'est la troisième génération de la famille Valentine qui dirige notre maison.
Chez Valentine, nos valeurs nous tiennent particulièrement à cœur. Nous faisons tout notre possible pour satisfaire les besoins de nos clients et de nos partenaires. De plus, nous avons conscience de la véritable contribution de nos employés à notre réussite. Ce n'est peut-être pas l'histoire la plus intéressante, mais elle est très gratifiante pour nous, et nos efforts en la matière ont toujours été récompensés. Preuve en est : nous fêtons non seulement notre 65e anniversaire, mais également 60 années de relation professionnelle avec l'un de nos partenaires au Royaume-Uni.
À l'avenir, nous allons faire tout ce qui est en notre pouvoir pour rapprocher Valentine de ses partenaires en augmentant nos activités de communication dont vous aurez très rapidement la primeur, soyez-en sûrs !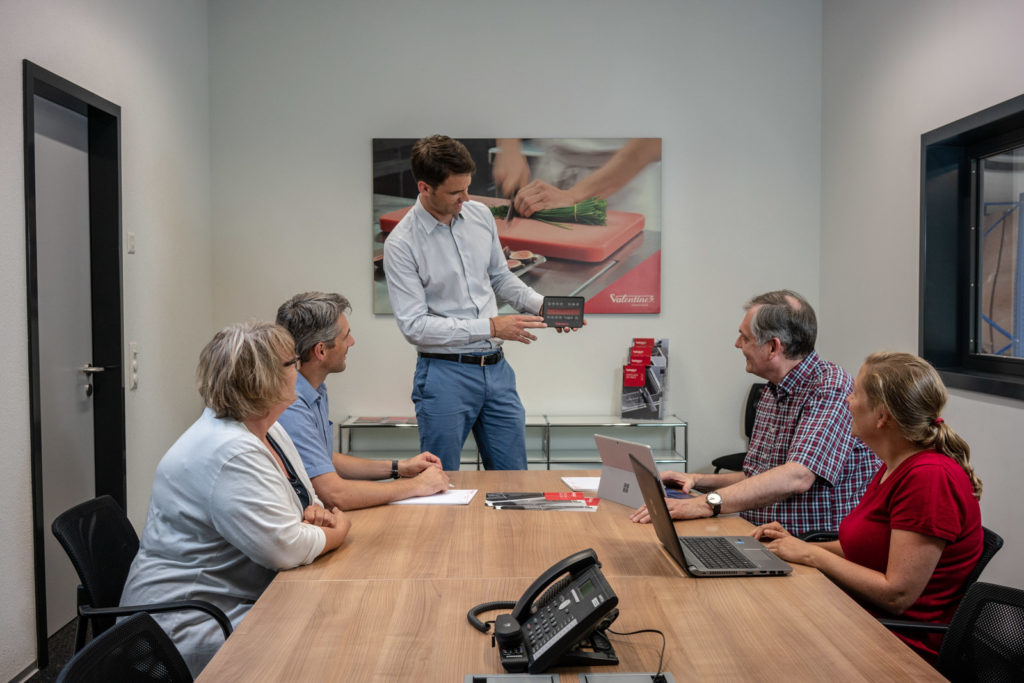 VALENTINE ET L'INNOVATION
Nous avons toujours aimé être des précurseurs. De la production de la première friteuse apparue sur le marché mondial à la première friteuse connectée avec l'Alpina 300. Nous avons même créé le Valentine Lab (plus d'informations à ce sujet prochainement) pour nous concentrer sur tous les aspects en lien avec l'innovation, tels que le développement et le test de produits. Nous envisageons de lancer notre première newsletter en 2018, alors si vous souhaitez en savoir plus sur le Valentine Lab, dites-le nous et nous veillerons à l'inclure dans nos articles !
NOS USINES FACE À L'AVENIR
Nous sommes restés proches de nos racines et ne nous sommes éloignés que de quelques kilomètres de notre toute première usine. Nous avons déménagé pour veiller à ce que notre capacité de production puisse répondre à la demande concernant nos produits. De plus, le fait de disposer de davantage d'espace nous incite à nous développer afin d'assurer l'activité de l'usine pour les années à venir.
C'est ici que nous fabriquons tous nos produits dans un souci de qualité optimale, en associant un équipement à la pointe de la technologie aux contrôles qualité stricts imposés en Suisse.
AVIS DES CLIENTS
L'avis de nos clients nous est précieux. C'est pourquoi, à la fin de l'année, nous avons demandé à certains d'entre eux de nous faire part de leurs impressions et suggestions afin de nous aider à répondre encore mieux à leurs besoins. Nous avons été ravis d'apprendre que nos clients apprécient la fiabilité de nos produits, notre réactivité et notre ponctualité. Nous nous penchons actuellement sur toutes les suggestions formulées afin d'améliorer notre marketing et notre support technique et, bien entendu, d'innover encore davantage.
Enfin, nous sommes toujours contents d'avoir de vos nouvelles. Pour toute question ou suggestion, ou si vous voulez simplement nous dire un petit bonjour, n'hésitez pas à nous appeler au +41 21 637 37 40 ou à nous envoyer un e-mail à l'adresse info@valentine.ch. Mieux encore, si vous passez dans le secteur, vous pouvez nous rendre visite Romanel-sur-Morges. Nous vous inviterons à un apéro de luxe à l'occasion duquel vous pourrez déguster nos délicieuses frites dont la recette est bien gardée…